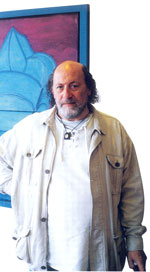 VITTORIANO DELGADO
Born i Rome 1937. His family tree goes back to the old Etruscan folk. Moved to Paris at the age of 15. Became familiar with the works af Picasso, Braque og Matisse. Delgado made portraits and miniatures in Boulevard St. Michel to support his first studio in Half Moon Street in the heart of the elegant quarter of Mayfair.
He visited museums and art galleries. For the first time he saw the works of Francis Bacon in Gallery Hanover, London.


Delgado reproduced old masters´paintings on ceramic vases, selling these at Portobello Market on Saturdays. Decided to move back to Rome in 1956, where he attended the Academia di Arte Moderna. Moved to Canada in 1959. Studied at the College af Art, Toronto. Contact with various other European artists also having moved to Canada.


The American Abstract Espressionism of the 60´s Rothko, Pollock and especially Willem de Kooning influenced his work further and gave rise to a more free expression in classic form an colours.
In 1981 he moved back to Italy, settled in the old Etruscan town of Sutri, north of Rome, where he opened his atelier for painting, sculpture and engravings. Searching for a link between the classic and the modern art of the 80´s, he was able to develop new ideas in his work.


Various exhibitions followed this period. In 1985 Delgado moved to Denmark and settled in Helsingør. The love for the works af Picasso is represented in many works af Delgado paintings, sculptures, drawings and graphics. Delgado´s classic modernism is a refreshing approach and a return to figurative art. His works are represented in many Canadian, American and European collections.