ART & ARCAEOLOGY by Delgado


My intention in creating modern Art works resembling Arts of the past... as Vases, small Sculptures and Objects created by Greek and Etruscan Artists... it's not to copy such Art works... will be impossible for any genial Artists of today to create such divine Arts!... my attempt and my work it's to remind Art lovers the dedication from these Artists in creating Masterpieces full of history... magic and beauty.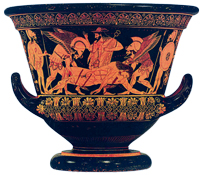 Euphronios (520 - 460 bC.)
a Master Painter from Greece, moved to Cerveteri ( Italy ) a small Etruscan city, to create and paint Vases for the high society of the time.
With the help of a ceramic and " terracotta " Master named Euxitheos he painted vases of extreme beauty and originality. Only 27 vases remain of his production. The named " Vase of Euphronios " is considered the most important Vase of his production and the most beautiful painted Vase in the World.
The figuration made by Euphronios represent the heroes Sarpedonte son of Zeus in the War of Troy. This fantastic Art work it's signed with the name of both Artists. The Vase was discovered in 1970 in a Cerveteri Etruscan tomb by illegal diggers called " Tombaroli " and sold to the American billioner Paul Getty for his Museeum . In 2007 " The Vase of Euphronios "... after 30 years of legal dispute, returned to Italy. You can see the " Vase of Euphronios " at the Etruscan Museeum in Rome.


Every two month I will create 10 pieces of new ART WORKS
(small Sculptures of painted wood & Paintings) inspired by the Arts of the past.
15 July - "The Vase of Euphronios"
15 September - "The Shadow of the Night"
15 November - "Etruscan Woman with a Fish"